Savings Account Singapore
Savings accounts offer an easy way for individuals to store money while earning interest over time. With so many banks offering different types of accounts, choosing one can be overwhelming.
In this article, we will discuss some of these criteria as well as provide recommendations for some of the best savings accounts currently available in Singapore. We'll also look at what benefits each type offers and explain why they may fit into different financial plans.
From competitive high interest rates to a variety of account options and flexible terms, we've compiled this list of top-rated local banks with high deposit rates as well as international institutions that have branches here so you can compare offerings before opening an account.
Overview Of Savings Accounts In Singapore
When evaluating which bank offers the highest interest rate savings accounts in Singapore, it's essential to compare the features and benefits each offer provides. Interest rates can vary significantly depending on how much money you deposit into your account and what type of fees the bank charges.
Additionally, some banks provide bonus incentives for customers who open up multiple accounts or invest regularly with their services. Furthermore, it's important to consider any additional perks such as online banking capabilities or rewards programs offered by certain institutions before signing up for an account.
What To Consider When Choosing A Savings Account
When it comes to high-interest savings accounts, look for one that offers an attractive rate of return on deposits made into your account. You should also compare different banks' offerings, since each bank will have its own set of features and benefits available with their particular accounts.
Additionally, check what other fees or charges may come along with the account – these can vary greatly between different providers. Finally, some banks offer bonuses like cashback rewards or loyalty points which could make them more appealing options than others.
Comparing Savings Accounts Interest Rates
When it comes to finding the best rate, it pays to do some research and compare offers from multiple providers. Savings account comparisons should include factors such as minimum balance requirements, fees associated with each account, and any special features or benefits offered by the provider.
It's also important to consider whether an online-only bank might be a better option than traditional brick-and-mortar banking institutions when considering which type of savings accounts will give you the highest return on your money.
From there, you can make an informed decision about which savings account is right for you – one that both helps you save more money now and provides long-term benefits down the line.
Best savings accounts in Singapore (Updated 2023) – Interest rates and links included.
We've reviewed and curated a list of the best savings account in Singapore. We've made sure that this article will be helpful to you, so let's not wait any further and get to it!
There are many banks to choose from in Singapore, as well as the different account types. Here is a table summary of the Best Savings Accounts in Singapore!
Savings Account
Interest Rates
⭐ Description
1. DBS Multiplier Savings Account

https://www.dbs.com.sg/personal/deposits/bank-earn/multiplier
Up to 3.00% p.a
Saver and spender using Paylah!
2. UOB One Savings

https://www.uob.com.sg/personal/save/chequeing/one-account.page
From 0.25% – 2.5% p.a
Crediting Salary on GIRO
3. OCBC 360 Account

https://www.ocbc.com/personal-banking/deposits/360-savings-account
Up to 2.38% p.a
All in one bank account.
4. MayBank Save Up Account

https://www.maybank2u.com.sg/en/personal/saveup/save-up-programme.page
Up to 3.0% p.a
All in one bank account
5. Standard Chartered Bank Bonus $aver

https://www.sc.com/sg/save/current-accounts/bonussaver/
Up to 2.38% p.a
Making bills payment
6. Bank of China Smart Saver

https://www.bankofchina.com/sg/pbservice/pb1/202007/t20200731_18212078.html
Up to 3.0% p.a
Salary crediting and card spender
1. DBS Multiplier Savings Account
⭐ Description
Saver and spender using Paylah!
Interest Rates
Up to 3.00% p.a
🌐 Website & Social Media
https://www.dbs.com.sg/personal/deposits/bank-earn/multiplier
Initial Deposit
No initial deposit required. No monthly account fees.
Minimum Balance
Service charge of S$5 if average daily balance falls below S$3,000 (based on total SGD equivalent of SGD & foreign currency balances). This service charge is waived for you up until 29 years old.
Offers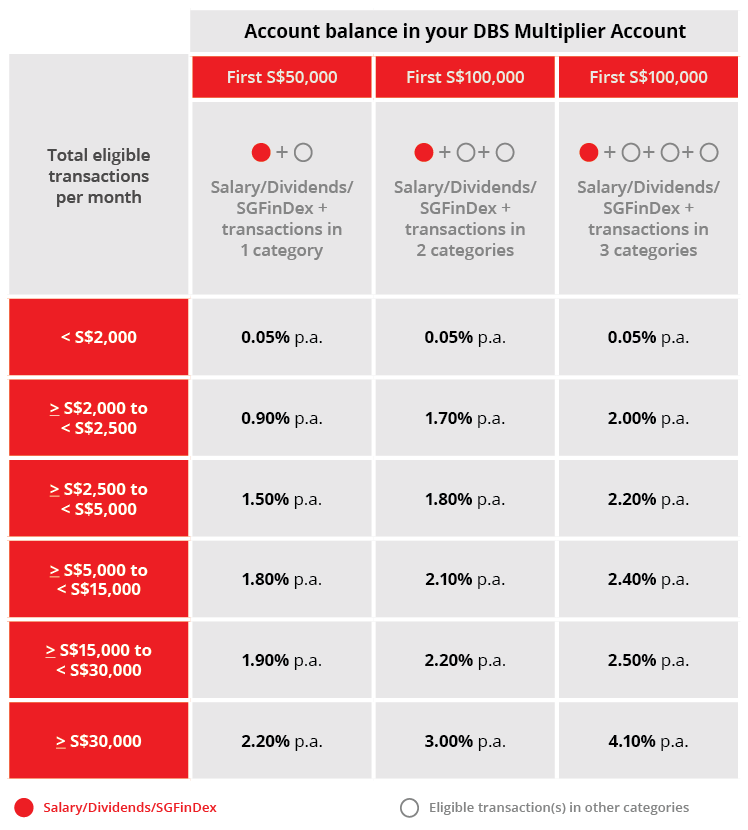 There are a few simple steps to getting the most of your DBS savings account.
First, you need at least one monthly income which qualifies for interest rates on Savings Plus accounts (salary credit or investment dividends).
Then pick from any number of categories that might suit your needs:
Credit card spending with no minimum;
Home loan cash plus CPF components counted as qualifying contributions;
Selected insurance policies like life insurance and critical illness coverage in addition to endowment plans;
Selected investments such as regular savings plan, unit trust funds, or DBS Vickers respectively.
With the right combinations it's possible to unlock higher tiers of interest and bonus when saving up for whatever comes next!
If you want a savings account that can be customised according to your preference, then the DBS My Account would be an ideal match for you. It's pretty easy to apply for this savings account as there's no age requirement or minimum deposit.
Ideal for parents, it enables you to connect your account to your child's savings account, allowing them to save their unused allowance. In addition, having access to your account has never been easier with their over 150 digital banking services.
If there's one thing we love about this saving account, it is the daily interest feature. As long as you regularly insert money into your account, your savings can increase almost every day!
🔥 Why Choose Them?
Customizable savings account options to suit individual preferences and needs
No age requirement or minimum deposit to apply
Ability to connect to child's savings account
Easy access to account through over 150 digital banking services
Daily interest feature for regular savings growth
2. UOB One Savings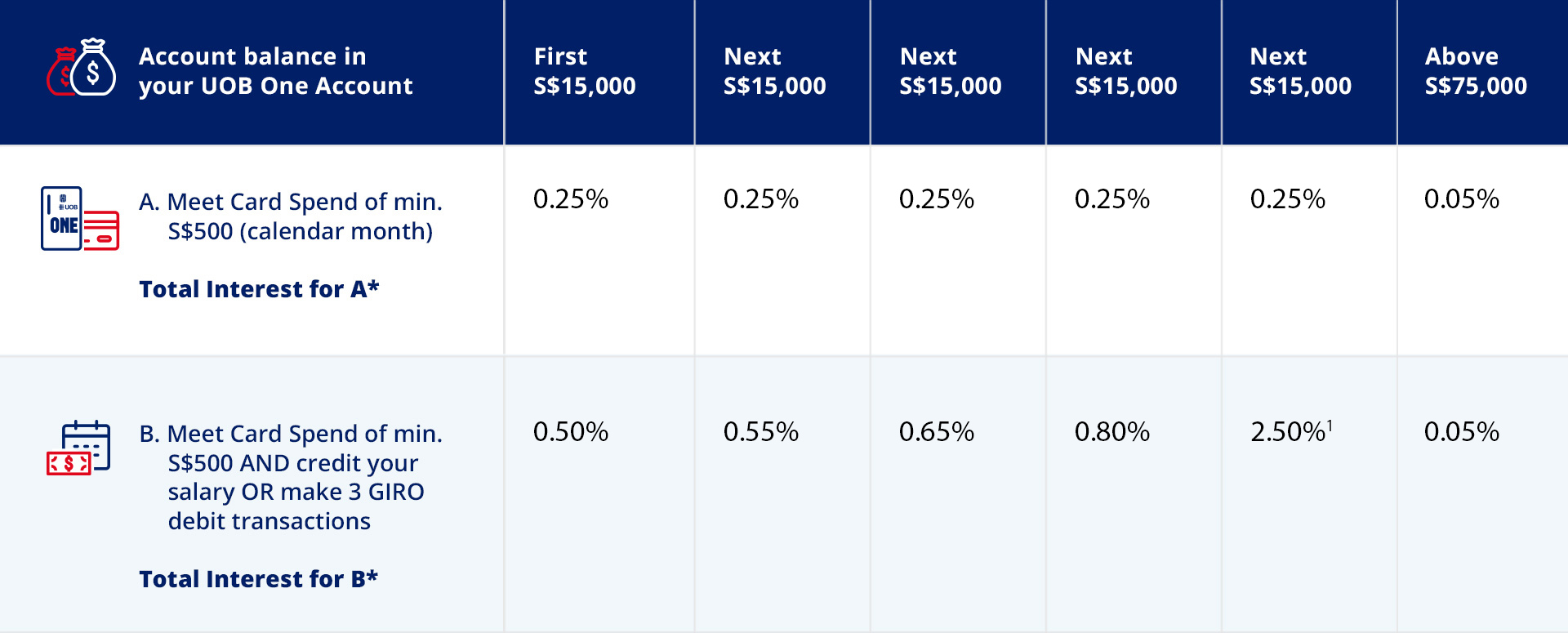 The UOB One account is one of the few higher interest savings accounts with no salary credit requirement.
Pick this account if you're allergic to maths, because the only requirement is spending at least $500 a month on any UOB card (either the UOB One Card, or either of our Lady Cards).
To boost your interest rate and get more out from it without having to do much work for it – just spend an extra 15K USD in your monthly transactions through that same borderless card!
Of course there are other ways as well – like crediting your monthly salary every year which will go up based on how many years you have been working already before cashing in so we can talk about retirement plans soon enough too.
🔥 Why Choose Them?
No salary credit requirement for higher interest rate
Only requirement is spending at least $500 a month on any UOB card
Boost interest rate by spending an extra $15,000 in monthly transactions
Additional interest rate increase based on years of salary credit
Can also be used to plan for retirement.
3. OCBC 360 Account
You can start by opening up an OCBC 360 account.
It's more complicated than the UOB One, but also has a lot of flexibility in that there's no one mandatory requirement to keep it running smoothly and efficiently for you- just meeting $1,800 worth every month is all you need!
You get 0.1% bonus each month your balance increases above 500 dollars which might encourage people to save even more over time without really noticing how much they're making back on their efforts down the line with this account.
🔥 Why Choose Them?
No salary credit requirement
Flexible account with multiple ways to earn interest
Bonus interest for increasing account balance above $500
Low minimum balance requirement of $1,800 per month
Encourages regular savings with bonus interest for balance increase.
4. MayBank Save Up Account
| | |
| --- | --- |
| ⭐ Description | All in one bank account |
| Interest Rates | Up to 3.00% p.a |
| 🌐 Website & Social Media | https://www.maybank2u.com.sg/en/personal/saveup/save-up-programme.page |
| Initial Deposit | S$500 for Singapore Citizens and Singapore Permanent Residents. |
| Minimum Balance | S$2 monthly balance fee (if average daily balance falls below S$1,000). Waived for customers below 25 years old. |
There are a few simple steps to getting the most of your Maybank Save Up account.
The Maybank Save Up Programme lets you choose from 9 different Maybank products/services to get bonus interest:
GIRO payment (min. $300) OR salary credit (min. $2,000),
Credit card spending (min. $500)  
Invest in structured deposit's Interest Rate Tracker (minimum of 10k – with a minimum investment amount that does not exceed 100% or the value of your account).
Unit trusts of at least $25k investments
Buy insurance for yourself and family members if they are below 18 years old ($5,000 annually- this is equivalent to one year's worth coverage.)
Home loan ($200K+)
Renovation Loan($10K+)- both require proof of property ownership certificate
Car Loans up to 35K
Education loan ($10k)
So if you know you are going to hit 3 products/services or more, you should seriously consider Maybank as you can get one of the highest returns in savings for your money.
🔥 Why Choose Them?
Flexibility in meeting bonus interest requirements through a variety of Maybank products and services such as GIRO payment, salary credit, credit card spending, structured deposits, unit trusts, insurance, home loans, renovation loans, car loans, and education loans.
Bonus interest earned for meeting certain minimum spending or investment amounts.
High returns on savings for customers who use multiple Maybank products and services.
No minimum deposit requirement to open an account.
Eligibility for children's insurance coverage and education loans.
5. Standard Chartered Bank Bonus $aver
| | |
| --- | --- |
| ⭐ Description | Making bills payment |
| Interest Rates | Up to 2.38% p.a |
| 🌐 Website & Social Media | https://www.sc.com/sg/save/current-accounts/bonussaver/ |
| Initial Deposit | Enquire directly |
| Minimum Balance | $5 Chargeable if the minimum average daily balance falls below S$3,000 in any particular month. |
The Standard Chartered BonusSaver savings account has been a great choice for those who have to spend more than they save.
After it was revised, however, the interest rate isn't as appealing unless you're looking to earn some money on your spending habits with this particular card.
If that's what you need and are willing to commit $2K in transactions before getting any benefits from using it, then by all means go ahead!
The Standard Chartered BonusSaver can be an attractive option if one needed high levels of transaction coverage without paying much attention or care about their credit score (which is now taken into consideration).
🔥 Why Choose Them?
The Standard Chartered BonusSaver savings account is a good option for those who have to spend more than they save.
The account offers a higher interest rate for those who make a certain amount of transactions each month.
The account requires a minimum of $2,000 in transactions to earn the higher interest rate.
The account is suitable for those who do not pay much attention or care about their credit score.
The account is also attractive for its high levels of transaction coverage.
6. Bank of China SmartSaver
There are a few simple steps to getting the most of your Bank of China Smart saver savings account.
If you want a higher interest rate than most, Bank of China is the way to go.
They offer an impressive 1.4% p.a. which has lesser requirements compared to the other banks.
Take advantage of their interest multiplier 'Bonus Interests'.
Wealth Bonus Interest – Earn bonus interest by purchasing Insurance products here

Card Spend Bonus Interest:
S$500 to S$1,500(exclusive) 0.30%
S$1,500 and above 0.50%

Salary Crediting Bonus Interest:
S$2,000 to S$6,000 (exclusive) 0.30%
S$6,000 and above 0.50%

Payment Bonus Interest:
Enjoy 0.30% p.a. Payment bonus interest when you successfully complete 3 bill payments of at least S$30 each via GIRO or Internet Banking/ Mobile Banking Bill Payment function.

Extra Savings Interest:
Extra Savings bonus is applicable to your account balance above S$80,000 and subject to a maximum of S$1,000,000.
If you can do the above requirements, you will be definitely enjoying huge interests on your money sitting in the Bank of China.
🔥 Why Choose Them?
High interest rate of 1.4% p.a.
Bonus Interests program with multiple options for earning extra interest, such as purchasing insurance products, meeting credit card spending or salary crediting requirements, and successfully completing bill payments via GIRO or online banking.
No strict requirements for maintaining account balance or credit score.
Ability to earn extra savings interest on account balances above S$80,000, up to a maximum of S$1,000,000.
Convenience of internet banking and mobile banking for completing transactions and earning bonus interest.
More About Savings Accounts in Singapore
Types Of Savings Accounts In Singapore
There are several different types of savings accounts available in Singapore, including:
Basic savings accounts: Basic savings accounts are the most basic type of savings account, offering a low interest rate and limited features. They are a good choice for individuals who are just starting to save and don't need a lot of features.
High-yield savings accounts: High-yield savings accounts offer a higher interest rate than basic savings accounts, making them a good choice for individuals who are looking to earn more on their deposits. These accounts may have higher minimum balance requirements or other fees.
Flexible savings accounts: Flexible savings accounts allow individuals to withdraw and deposit money more frequently than other types of savings accounts. They are a good choice for individuals who need access to their savings on a regular basis.
Joint savings accounts: Joint savings accounts allow two or more individuals to open and manage an account together. They are a good choice for couples or families who want to save money together.
Features Of Savings Accounts In Singapore
Some of the features that may be offered by savings accounts in Singapore include:
Interest on deposits: Most savings accounts offer interest on deposits, allowing savers to earn money on the money they put into the account. The interest rate may vary based on the type of account and the balance in the account.
Minimum balance requirements: Some savings accounts may have minimum balance requirements that must be met in order to maintain the account or earn interest.
Fees: Some savings accounts may have fees for services such as ATM usage or account maintenance. It is important to understand what fees may apply to a savings account before opening it.
Benefits Of High-Yield Savings Accounts
Here are some key benefits of using a high-interest savings account:
1) Earn more money – High yield savings accounts tend to offer significantly higher annual percentage yields (APYs) compared with other types of bank deposits, meaning that your money will grow faster over time.
2) Easy accessibility – Most online banks make it easy for customers to transfer funds between their checking and saving accounts without any hassle or fees. This allows you to quickly move your funds around if needed.
3) Safety – Your deposits with an FDIC insured institution like most online banks come with government protection up to $250,000 per depositor making them safe investment vehicles.
4) Low minimum balance requirement – Many banks don't require an initial deposit or have low opening balances which makes starting a new account affordable even for those on tight budgets.
5) Flexible terms – You can usually choose how long you want to keep your money invested in the account before withdrawing it so there's no pressure when deciding what length fits your needs the best.
Advantages Of Using Seedly To Find The Best Savings Account
The advantages of using Seedly include being able to access information from trusted sources, get personalized recommendations based on user's individual needs, as well as a wide range of tools for tracking spending habits and budgeting.
Seedly also offers help with understanding complex banking products like deposits and fixed-income investments. This makes it easier for users to understand how each product works and decide which one will give them the optimal return rate while considering any risks involved.
Using Seedly helps save time by providing customers with all the necessary information in one place so they don't need to search through multiple websites or contact banks directly.
Furthermore, if users have additional questions about specific accounts or other financial matters, they can take advantage of Seedly's customer service team who are ready to answer queries anytime. All these features make Seedly a great tool for comparing banks and their savings accounts.
Comparing Banks And Their Savings Accounts
To make sure you get the perfect fit for your needs, here is a breakdown of what to look out for:
Compare bank accounts – Different banks offer different features like higher deposit amounts or lower minimum balance requirements. It's important to consider which ones suit your individual financial situation.
Look at available features – Some accounts come with bonus rewards such as cashback offers, while others provide access to mobile banking apps or other convenience services. Check what each one has to offer before making a decision.
Consider ongoing fees – When looking at different savings accounts, be mindful of any ongoing fees that may apply over time. Make sure you understand how these will affect your overall costs so there aren't any surprises down the line.
Read up on terms & conditions – Every bank has its own terms and conditions governing their accounts, so take some time to read through them carefully before signing up. This way you can avoid any unexpected charges or restrictions later on.
By doing thorough research into various bank accounts, you'll be able to determine which one is most suitable for your financial goals.
Different Types Of Savings Accounts
The first type is a basic savings account. This kind of account typically offers lower interest rates compared to other kinds of deposit accounts but may come with certain perks like free ATM withdrawals or access to online banking services.
For those looking for higher returns on their deposits, there are higher-yield savings accounts which usually require minimum balances and often have restrictions on how much money you can withdraw each month. These generally provide higher interest rates than basic savings accounts – up to the highest savings account interest rate available in Singapore.
Another option is an FDIC insured bank certificate of deposit (CD). CDs typically offer fixed terms from three months up to five years and the longer your term, the more likely you'll be able to get one of the highest interest rate for savings account Singapore has to offer.
However, should you choose to close your CD before its maturity date, you will face early withdrawal penalties so this might not be suitable if you need immediate access to funds.
Deciding between convenience versus high returns requires careful consideration since each individual will have varying requirements depending on their financial situation and future plans.
Choosing A Savings Account Based On Interest Rates
Researching the various interest rates available on Singaporean savings accounts will help narrow down which type of account would best suit your needs.
You don't need to feel overwhelmed when searching for the perfect savings plan. Take a look at each option and compare their respective interests rates – this way, you'll get closer to finding the best savings plan in Singapore for you!
Pros And Cons Of Different Savings Accounts
High-interest savings accounts are great if you want higher than average returns on your investments – they offer some of the best interest rates in Singapore. However, these may come with high fees or other restrictions that could make them less attractive overall.
On the flip side, low-fee savings accounts often provide lower interest rates but no hidden charges, making them more suitable for those who don't need immediate access to their funds.
No matter what kind of savings account you choose, it pays to do your research before committing. Look out for minimum balance requirements, monthly fees or penalties for early withdrawal – all factors that should influence your decision when choosing a savings account based on its interest rate.
Making The Most Of Your Savings Account
The first step is researching which banks offer promotional deals or higher-than-average rates on their products.
Don't forget hidden fees, transaction limits, ATM access points, online banking capabilities and so on – these small details add up quickly and could mean the difference between a great return on investment or mediocre returns at best.
Frequently Asked Questions (FAQs)
Check out some of the Frequently Asked Questions (FAQs) about Savings Accounts in Singapore.
Which Bank Gives Highest Interest Rate On Saving Account In Singapore?
CIMB FastSaver is a savings account that offers a competitive base interest rate ranging from 0.80% to 1.50%, depending on the amount of money saved. This high interest rate sets CIMB FastSaver apart from other savings accounts on the market and may make it a particularly attractive option for individuals looking to maximize their earning potential on their deposits.
What Are The 3 Main Savings Accounts?
Money market accounts offer higher interest rates and may have higher minimum balance requirements.
Certificate of deposits are accounts that require a fixed deposit for a set term, and offer a higher interest rate in return. It is important to understand the differences between these account types and choose the one that best fits your needs and goals.
What Is The Biggest Disadvantage To Savings Accounts?
While savings accounts can be a convenient and secure way to save money and earn interest, they may also come with fees that can impact your earnings. For example, some financial institutions charge a monthly fee if the balance in the account falls below a certain minimum requirement.
It is important to be aware of any fees that may apply to a savings account and consider how they may affect your overall earnings. By understanding the fees associated with a savings account, you can make an informed decision about which account is the best fit for your needs and goals.
Are There Any Fees Associated With Opening A Savings Account?
It can be daunting to consider all of the options when searching for a savings account. After spending hours researching, it's easy to feel overwhelmed and uncertain about where to start. But fret not – there is one important factor that you must keep in mind: fees associated with opening up a savings account.
 
Are you wondering if there are any hidden charges or unexpected costs? Well, we've got some good news for you! Generally speaking, most banks don't charge customers anything for setting up an individual savings account. However, you should always double-check with your bank to make sure this is the case before signing any paperwork. By doing so, you will be able to plan ahead effectively and ensure that you won't have any unpleasant surprises down the line.
 
Making smart financial decisions requires thorough research and understanding of what's available on the market. At times it may seem like quite a challenge – but getting informed first could save time and money over time. So take your time researching and exploring different accounts, find out more information from your bank's customer service representatives and then choose the right one for your future goals!
Can I Use My Savings Account For Investments?
Savings accounts are an excellent way to put away money for the future, but can you use them for investments? With interest rates seemingly stagnated and financial markets turbulent, investors may want to look into different strategies. Many people may not be aware that savings accounts offer a range of investment opportunities – so let's dive in!
 
Take my friend Arthur as an example; he had been saving a small sum each month with his local bank, never expecting it to amount to anything particularly substantial. However after a few years, when he decided to take stock of his finances and check out what was available on the market, he discovered that by using cleverly-timed transfers between banks, he could make more money than ever before through investing in savings accounts.
 
Investing in savings account is becoming increasingly popular due to its inherent safety features:
• Low Risk: Savings accounts typically have low risk associated with them compared to other traditional forms of investments such as stocks or bonds. This means your capital will remain safe even if there are economic fluctuations in the market.
• High Returns: Depending on the type of account you open and how much you save each month, returns can be significantly higher than those offered by regular deposit schemes. For example, many online banking platforms offer competitive rates which enable customers to earn up to 3% on their deposits over 12 months.
 
The benefits don't end there though; depending on how well you manage your account (and how savvy you become at transferring funds within a short time window) you may also gain access to additional perks like rewards points or cashback incentives from partner organisations – all without taking any extra risks beyond opening an account! So why not give it a go? You'd be surprised just how far your hard-earned money could stretch with the right strategy in place.
How Do I Make A Deposit Into My Savings Account?
Making a deposit into your savings account is easy and straightforward. You can use several methods to do this, such as online banking or using an ATM machine. Here are four simple steps to get you started:
 
1) Log in to your bank's website or mobile app with the correct credentials.
2) Select the 'deposit' option from the list of services provided by your bank.
3) Enter the amount you wish to transfer and select the source account from which you want to make the payment.
4) Confirm all details and click submit for processing.
 
Once done, you should be able to see the deposited funds credited to your savings account immediately. If not, then contact customer service at your bank for help. In addition, it's important that you keep track of all transactions made on your account so that there are no discrepancies later on. Taking these few extra minutes will save time and effort when making deposits in future!
Are There Any Restrictions On Withdrawals From A Savings Account?
The truth is that almost every savings account has some sort of limitation on how much you can withdraw at any given time. This may vary depending on the bank or financial institution you're using, but they all have the same goal: to help you save your hard-earned money and ensure that it remains safe.
Most banks will also require customers to provide identification documents before allowing them access to their funds, as well as impose other security measures such as two-factor authentication.
 
No matter which type of savings account you choose, always make sure to read through each institution's terms and conditions thoroughly. Familiarize yourself with all the limitations placed on your deposits and withdrawals; understanding these rules is essential if you want to make the most out of your account while keeping your finances secure!
Can I Access My Savings Account From Anywhere?
For the most part, accessing a savings account from any location will depend largely on the type of bank or institution with which the account has been opened. Generally speaking:
 
– Some banks may offer mobile apps or online banking platforms so their customers have 24/7 access to funds stored in their accounts;
– Other banks may operate solely through physical branches and ATMs, limiting users' abilities to withdraw cash or check balances remotely;
– Still others may provide both options so users can choose according to their needs and preferences.
– Additionally, some financial institutions may require certain user authentication measures such as passwords or biometric scans before allowing remote access;
– Finally, many modern banks are now offering digital wallets and other payment services that allow users to make payments and transfers directly from one account to another without needing any physical cards or paper currency.
 
No matter what type of bank you use – whether digital only, brick & mortar only, or a combination of both – there is likely a way for you to conveniently manage your savings wherever you are located. With innovative tools like these available now at our fingertips, it makes sense why people around the globe increasingly prefer using digital banking solutions over traditional ones!
Conclusion
In conclusion, a savings account is one of the most reliable and advantageous ways to save money. It offers users the opportunity to accrue interest on their deposits, as well as access to funds at any given time without much hassle.
With so many options available in Singapore nowadays, it can be difficult to decide which bank best suits your needs. Nonetheless, with careful consideration of fees associated with opening an account, investment opportunities, ease of deposit and withdrawal process and accessibility from anywhere – you are sure to find the right savings account for yourself!
We have reached the end of the article! We're glad that you made it this far! Now that you have our list of the best savings accounts in Singapore, do let us know if you feel that there are others that should be part of this list!
We hope this article that we have reviewed has been helpful for you! If you find this article helpful, do check out other related articles in Singapore!